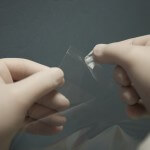 The usual use for the bags with adhesive flap is for containing samples, because its natural shine give the samples a more attractive look.
However, this bags are even more often used in the Alimentary Sector, for example, to exhibit candys and fruits. For this use, minimum quality requirements of alimentary contact must be offered.
Pursuing this aim, CV Protection, with the colaboration of an authorized laboratory, has get the global migration test report. The results guarantees the bags to be en contact with any type of food.